April 4, 1928 - May 28, 2014
Gone....but will never be forgotten
Maya Angelou was born Marguerite Ann Johnson on April 4, 1928 in St. Louis, USA.
An excellent author and poet, she published seven autobiographies, novels and several poetry books.
I especially loved reading her books of inspiration and devotion.
Her first autobiography, "I Know Why the Caged Bird Sings" was the first step to her international recognition and acclaim.
A recount of her life up to the age of 16....a story of how her parents abandoned her, being raped by her mother's boyfriend, becoming homeless and living life as a teenage mother.
This was only the beginning of her illustrious writing career. Her mastery of literature was her forte.
"I want to write so well that a person is 30 or 40 pages in a book of mine ... before she realizes she's reading," Angelou once said.
She had many treasured friends like Rosa Parks, Martin Luther King Jr., Malcolm X, and Oprah Winfrey......those of us left will miss her voice.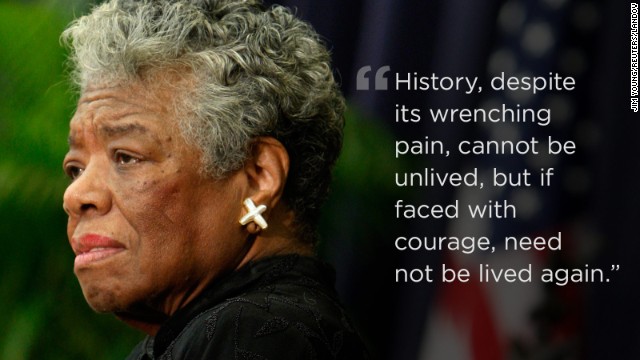 and dares to claim the sky.
his wings are clipped and
so he opens his throat to sing.
The free bird thinks of another breeze
and the trade winds soft through the sighing trees
and the fat worms waiting on a dawn bright lawn
and he names the sky his own
But a caged bird stands on the grave of dreams
his shadow shouts on a nightmare scream
his wings are clipped and his feet are tied
so he opens his throat to sing.